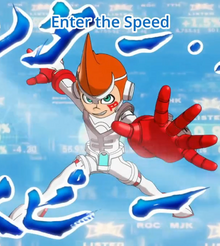 Enter The Speed is a different version of Enter The Gold that was unlocked by Kaito's Zeal. Unlike Enter the Gold, Speed is focused on quick attacks that let it compliment Gold's offensive capability. Speed is the fastest suit by far, hardly being able to be seen while moving. It's power is still high, being able to break The Baron of Euro's Rapier.
Ad blocker interference detected!
Wikia is a free-to-use site that makes money from advertising. We have a modified experience for viewers using ad blockers

Wikia is not accessible if you've made further modifications. Remove the custom ad blocker rule(s) and the page will load as expected.